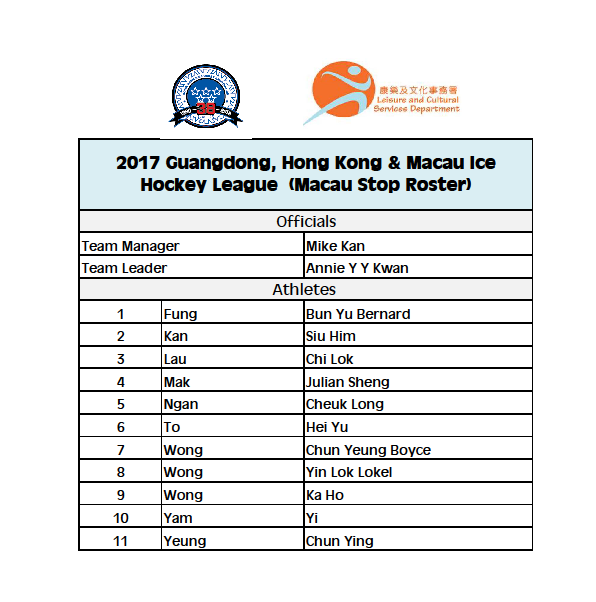 (APPLICATION CLOSED)HongKong Ice Hockey Association Limited (HKIHA) is pleased to announce that the 2017 Guangdong, Hong Kong & Macau Ice Hockey League (Macau Stop). We cordially invite our members and our Registered Clubs members to apply to participate in this event. The Guangdong, Hong Kong & Macau Ice Hockey League is co-organized by HKIHA, Shenzhen Coastal City Star Skating Club and Macau Ice Sports Federation and subvented by the Leisure and Culture Services Department (LCSD). There will be three teams competing: Hong Kong, Shenzhen and Macau.
Date: November 26, 2017 (Sunday)
Time: 10:00 – 17:00
Fee: HKD $300
Requirements:
MUST be a HKIHA Registered Ice Hockey Player to comply with IIHF standards and regulations.
(Players not registered may fill out the form and mail it to the HKIHA office for processing)
Must have a valid HKID card, shall be aged 15 or above on the day of competition and have his/her own equipment that meets IIHF standards.
Please register in below :