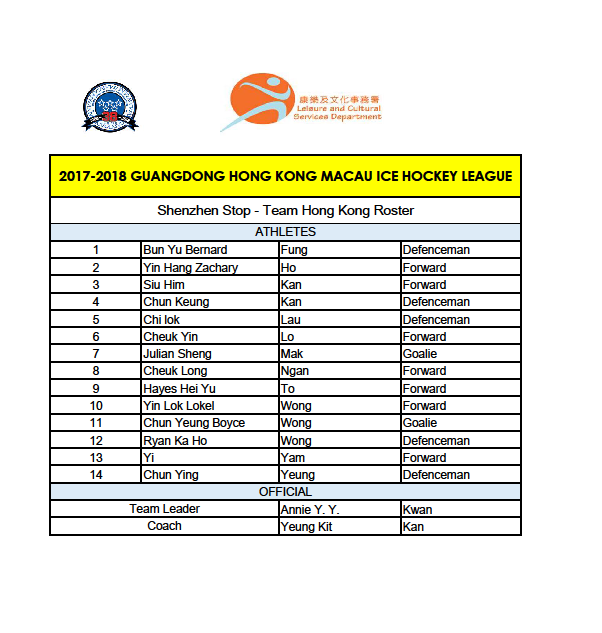 (APPLICATION CLOSED)
HongKong Ice Hockey Association Limited (HKIHA) is pleased to announce that the 2017 Guangdong, Hong Kong & Macau Ice Hockey League (Shenzhen Stop). We cordially invite our members and our Registered Clubs members to apply to participate in this event. The Guangdong, Hong Kong & Macau Ice Hockey League is co-organized by HKIHA, Shenzhen Coastal City Star Skating Club and Macau Ice Sports Federation and subvented by the Leisure and Culture Services Department (LCSD). There will be three teams competing: Hong Kong, Shenzhen and Macau.
Venue and Date: December 10, 2017
Time: 10:00 – 14:30
Registration Deadline: November 31, 2017
Requirements:
MUST be a HKIHA Registered Ice Hockey Player to comply with IIHF standards and regulations.
(Players not registered may fill out the form and mail it to the HKIHA office for processing)
Must have a valid HKID card, shall be aged 15 or above on the day of competition and have his/her own equipment that meets IIHF standards.
Costs: 300HKD via Cheque (Included Shuttle bus from Hong Kong to ShenZhen ,2 Games and Lunch) (Only selected players will have cheques deposited)
Payee: Hong Kong Ice Hockey Association Limited
Address: Hong Kong Ice Hockey Association, Room 306-308, 3rd FL, Metro Centre II, 21 Lam Hing Street, Kowloon Bay, Hong Kong
Please consider our programmes very seriously before you apply.If you withdraw without a reasonable reason after being selected ,your actions might lead to not being considered for selection for any of our programmes next time.