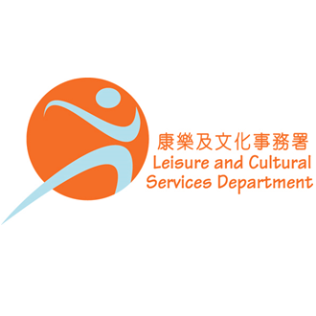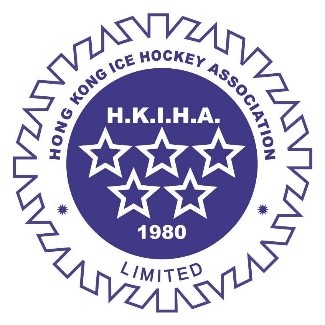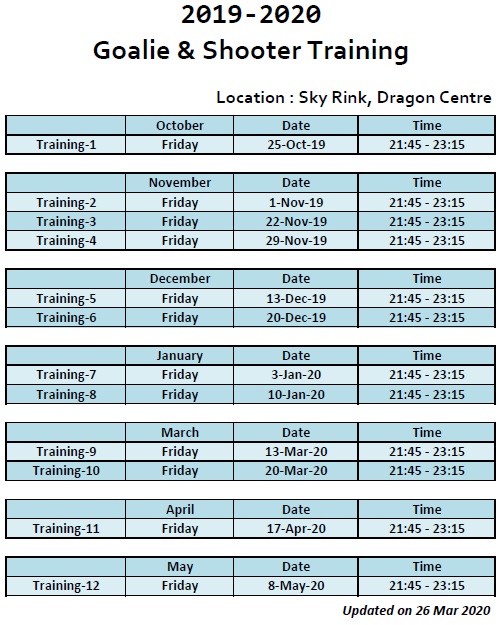 The HongKong Ice Hockey Association (HKIHA) cordially invites (goalies for all ages) and (shooters born before 2006) to participate in the goalie training. ALL selected goalies (for all ages) and shooters (born on or before 2006) will attend 12 sessions of training at Dragon Centre. The practice will take place on Friday night from 21:45 – 23:15.Please kindly check the detail below:
Date & Time : October 25, November 1, 15, 22, 29, December 13, 20, January 3, 10, February 14, March 6, 13.
                          Friday 21:45 – 23:15
Place : Skyrink, 10th Floor, Dragon Centre
ELIGIBILITY: 
Players born on or before 2006
12 Practices,1.5 hours for each practice.
Player Selection Priority will be as follow:
(i)HKIHA Registered Ice Hockey Players
(ii)有參加 2019-2020 少年冰球代表隊之球員優先                                                                                                                                                                                                                                                (ENL, YNL, JNL Players.)
(iii)參加此訓練之球員,必需承諾有70%出席率及必需代表本會出戰未來賽事。                                                                                                                                                                                    *Please note that all athletes have to make sure they will have at least 70% attendance of the program and the selected athletes must represent HKIHA for both local and outside Hong Kong  Competitions in 2019-2020.​
Registration Deadline:
Thursday, 24 October 2019
Contact details:
香港冰球協會 Hong Kong Ice Hockey Association
電話Tel: 852 – 2310 1050
傳真Fax:852 – 2806 8727
電郵Email:hkiha@hkolympic.org
如有任何爭議, 以組委會最後決定為準。The Co-organizer's decision shall be final in case of any dispute.
Please register with the online form below: