HKIHA are pleased to announce the 2016 – 2017 Feeder Program, organized by HKIHA and subvented by the Leisure and Cultural Services Department (LCSD).The aim of the Feeder Programme is to provide additional training and development for all young players to improve their ice hockey skills so that they may become contributing members of the U18 National Team and/or the Senior Men's National Team program in the future.The Feeder Programme has been given long-term commitment and support from the government and will be a continuous program.
The tryout times are as follows:
a) U12 and U16 players – 24 October 2016 (19:30 – 21:15)
*All applicants must be HKIHA Registered
Ice Hockey Players.
**IMPORTANT NOTE: Please note that those participating in the Hong Kong Youth National Team Development League (YNL) will be given first priority for selection into Feeder Program based on their results from the YNL tryouts. As such, if the number of applicants exceeds the limit for each age group, only selected applicants will be asked to come for the tryout. Please kindly wait for an email that will be sent out by  (23 October) at the latest.
Priority for player selection into the Feeder Programme will be as follows:
1) Hong Kong Youth National Team Development League (YNL) Players
2) HKIHA Registered Ice Hockey Players
3) HKIHA Registered Clubs members
4) General Public
Schedule: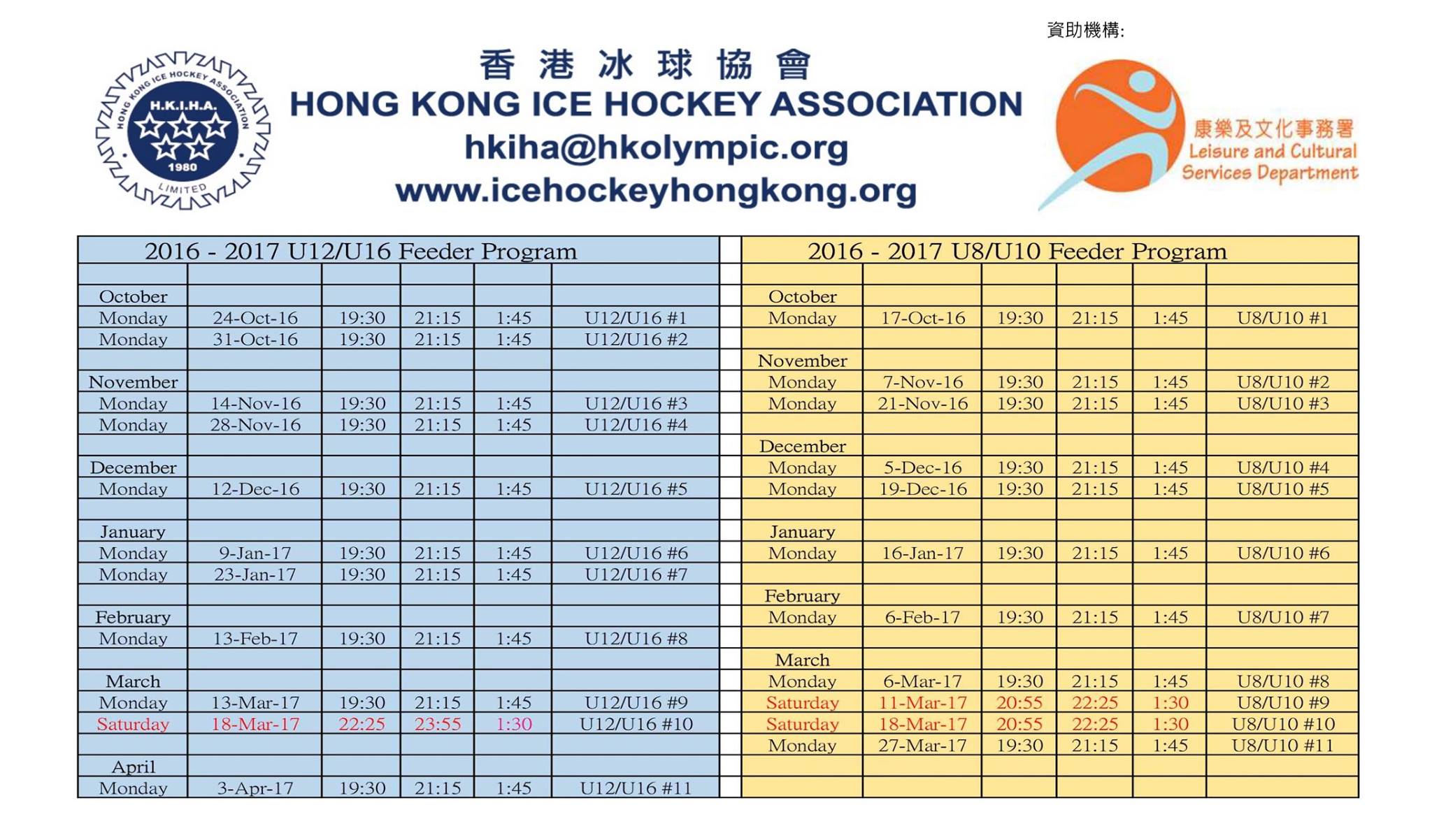 Cost
There are a total of 11 on-ice sessions (including the tryout). Each on-ice session will last 1 hour and 45 minutes. A Training Fee of HK$1500 for these on-ice sessions is required for each selected player which is non-refundable. If a selected player cannot attend one or more practices, there will be no refund for those missed practices.
HKIHA reserves the absolute right to all final decisions.
Locati0n
Mega Ice,MegaBox, 38 Wang Chiu Rd